President Muhammadu Buhari's Personal Assistant on Social Media, Lauretta Onochie has described Nigerian Senators as bunch of errant schoolchildren and turned the Nation's assembly to a chamber that works with blackmail.
In a statement on her
Facebook page on Wednesday
, Onochie described the senators as clowns.
She was reacting to the recent decision by the Senate not to screen INEC REC nominees sent by President Muhammadu Buhari until Ibrahim Magu is removed as acting Chairman of the EFCC.
She wrote, "At best, the Nigerian Senate has turned itself into a trade union of some sort. Not a patriotic trade union that cares and fights for the well being of the citizens, but a blackmailing self-serving trade union that work with blackmail!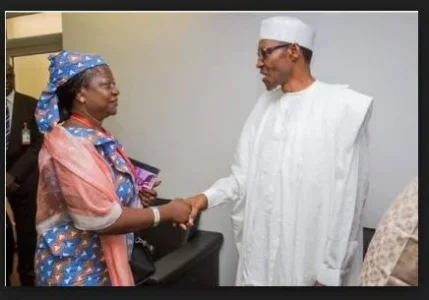 "But there are many patriotic and people-oriented senators in that Chamber. Where are they? Why are they silent? Why are they succumbing to the bullying antics of a few clowns who are being manipulated by the head cabal? Yes, the cabal!
"What are the patriotic senators doing to let Nigerians know that they are not part of the unholy and demonic alliance of the awaiting-trial cabal?
"How can they sit pretty, and allow those who are either under criminal investigations or are awaiting trials to be the ones deciding the fate of Nigerians?"
She added that the senators have neglected their principal role of lawmaking.
"So, why is the Nigerian Senate acting like a bunch of errant schoolchildren in a playground?.