Nigerians, under the aegis of Advocates for Collective Transformation and Youth Empowerment Initiative, on Tuesday took the protest against attacks on Nigerians in South Africa to the country's Embassy on Molade Okoya Thomas Street, Victoria Island, Lagos State.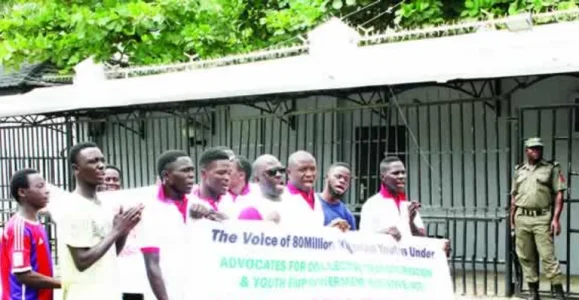 The protesters, who were mostly youths, occupied the frontage of the embassy, singing solidarity songs.
Expressing their displeasure at the destruction and looting of business ventures owned by Nigerians in South Africa, they called on the Federal Government to shut down the South African high commission offices in the country.
They also demanded that the government suspended the South African ambassador to Nigeria and other officials until the safety of Nigerians in South Africa could be guaranteed.
Some persons, believed to be officials of the embassy, observed the protest from the barred gate of the embassy and took some photos.
They did not address the protesters for the 30 minutes that the demonstration lasted.
Two executive members, Ayodele Samuel and Ifetoluwa Ajayi, who spoke on behalf of the protesters, said the Federal Government had not shown enough concern about the incident, which made them to embark on the protest.
Samuel, who is the group's media coordinator, also represented the National President, Olutayo Asogbon.
He said, "The message is simple. We want the Federal Government to close all South African diplomatic offices in Nigeria. We also want the government to declare South African ambassador to Nigeria and other officials persona non grata. We don't want them on our soil until the safety of Nigerians in South Africa is guaranteed."