Governor Rochas Okorocha has supported President Muhammadu Buhari's refusal to pay N5,000 monthly allowance to unemployed Nigerians as promised during the election campaigns.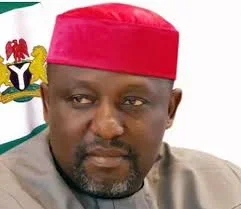 Governor Okorocha said if the campaign promise is fulfilled, it might lead to Nigerian men marrying a harem of women as wives and increased intake of alcoholic drinks; THIS DAY reports reports.
He said: "To be honest with you, it is a great idea, but there are many ways to give that support. Sometimes, it could be in cash which has its negative challenges. Handling of that is also in itself a wonderful and great idea.
"Take for instance, in Imo State now, they used to do what they called empowerment. They buy motorcycles and give people N5,000 or N10,000, for me that is not my style.
"My style is to declare free education, from primary, secondary to university. Nobody pays one naira in Imo State. The very poor people who have to endure a lot of social inconveniences to pay school fees are no longer doing that. What has happened is that they have saved that money to produce further wealth."