A witness yesterday told a Federal High Court in Abuja, yesterday, that the son of former Chairman of the Peoples Democratic Party (PDP) and minister of Defence, Haliru Bello received the sum of N300 million without any contract, DailyTrust reports.
An operative of the Economic and Financial Crimes Commission (EFCC) and forensic analyst, Roukayya Ibrahim testified that Abba Bello, who is the manager of Bam Projects and Property Ltd, received the amount from the office of the former National Security Adviser (ONSA) through his Sterling Bank PLC account on March, 2015.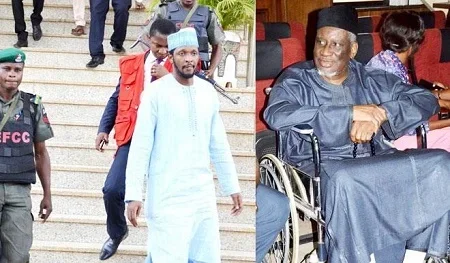 She stated that the amount was part of a total sum of N30 billion authorized by the then Accountant General of the Federation to be released from the ONSA account with the Central Bank of Nigeria (CBN) on March 11, 2015.
She added however that under interrogation by investigators in EFCC office, Bello, who initially denied the findings, later confessed that "Bam Projects did not do any contract for ONSA."
Justice Ahmed Mohammed has adjourned the case to February 23 for cross examination for the witness.