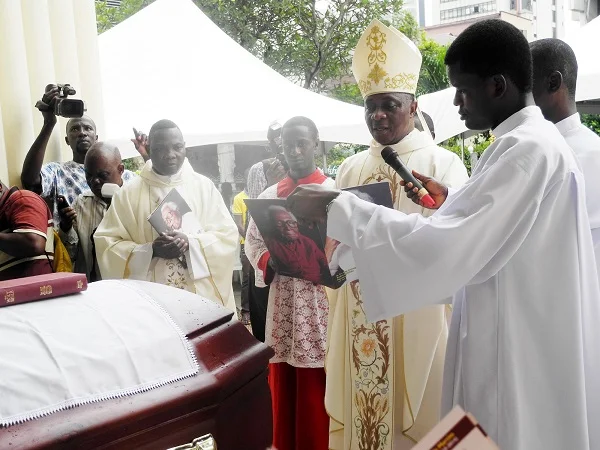 ARCHBISHOP OF LAGOS, ALFRED MARTINS (M) AND OTHERS AT THE FUNERAL MASS FOR THE FIRST NIGERIA CATHOLIC CHAPLAIN OF THE NIGERIA ARMY, COL. PEDRO MARTINS IN LAGOS ON TUESDAY
----
The oldest Catholic priest in Nigeria, the late Monsignor Pedro Martins, was on Tuesday laid to rest in Lagos amidst tributes by clerics, friends relatives.
Martins, aged 103, was laid to rest at the Vaults and Gardens Cemetery, Ikoyi , Lagos, after a funeral mass at the Holy Cross Cathedral, Lagos.
The News Agency of Nigeria (NAN) reports that the retired colonel died on May 17.
He was born on Nov. 16 , 1910, and spent 70 years as a Catholic priest, having been ordained on Aug. 8, 1943, by the late Rt. Rev. P.F. Kelly, the then Vicar Apostolic of Asaba and Benin.
Late Pedro Martins, an old student of King's College, Lagos, was one of the first eleven indigenous priests.
Archbishop Alfred Adewale Martins of the Catholic Archdiocese of Lagos was the chief celebrant at the mass. He was assisted by bishops and reverend fathers.
In a sermon he preached, the archbishop advised Nigerians to emulate the courage and selfless service of the late Martins.
``His life from birth to death combined courage, compassion, determination, generousity, discipline and discharge of duties in the church and the nation,`` he said.
The archbishop described the late cleric as a committed priest, an exemplary soldier, a good leader, an inspiration and a competent worker.
He noted that Martins was the first ordained priest from Lagos State and the first Nigerian Roman Catholic Chaplain of the Nigerian Army.
Anthony Cardinal Okogie, Archbishop Emeritus of the Catholic Archdiocese of Lagos, said that the late Martins dedicated his long life to selfless service to mankind.
``It is difficult to put into words his role to the church and the state; he was an embodiment of discipline, principle and morals; he built bridges across parallel lines,`` Okogie said.
Archbishop Emeritus Felix Alaba Job of the Catholic Archdiocese of Ibadan described the late cleric as the patriarch of Catholic priesthood in Nigeria.
``Pedro Martins, the fearless soldier and scout, urged Nigerians to work for peace without counting the cost or looking for rewards,`` he said.
He said that the late Martins, the first African Chairman of the World Military Council, made a distinctive mark.
Other Catholic clerics who participated at the mass include Archbishop Gabriel Abegunrin of the Archdiocese of Ibadan, Bishop Albert Fasina of the Diocese of Ijebu-Ode and Bishop Emmanuel Badejo of the Diocese of Osogbo.
The others include Bishop Felix Ajakaye of the Diocese of Ekiti, Bishop Michael Fagun -- Bishop Emeritus of the Diocese of Ekiti -- and Bishop Ayo Maria Atoyebi of the Diocese of Ilorin.
Other dignitaries at the event include retired Rear Admiral Ndubuisi Kanu, Mrs Helen Ekwueme and Mr Disu Holloway, Lagos State Commissioner for Tourism and Intergovernmental Relations, who represented Gov. Babatunde Fashola.
Rev. Fr. (Col.) Charles Iroegbu, the Director of the Nigerian Army Chaplaincy Services (Catholic) also attended the event.