The Ooni of Ife, Oba Adeyeye Enitan Ogunwusi, on Thursday, berated those criticising him for kneeling in church to worship God, saying "no king on earth is above God."
An online newspaper had criticised Oba Ogunwusi for kneeling while worshiping God during a thanksgiving service marking the end of his installation activities.
The week-long coronation activities for the Ooni was climaxed by a thanksgiving service on Sunday, December 13, 2015, at St Paul's Anglican Church, Ile-Ife.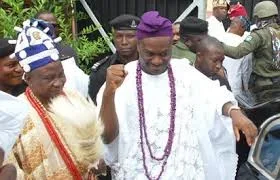 Reacting to the online newspaper report, in a statement signed by his Director of Communication and Public Affairs, Ooni's Palace, Ile-Ife, Comrade Moses Olafare, Ooni emphasised that "it is an unacceptable sacrilege to equate Ooni'risa or other king to the almighty God."
The statement read in part: "God is the Creator of mankind and it is God that made it possible for the enthronement of any king. God remains the highest King of kings, who has kept all king alive and had made it possible for me to be crowned as the king of the source of Yoruba civilisation.
"I have no regret whatsoever for kneeling down to exalt the Almighty God who did not only create me, but also kept me alive, saw me through all the storms in my life journey and eventually crowned me as the custodian of Oodua race.