The Indigenous People of Biafra, IPOB, has denied speculations that the organization was being funded by politicians.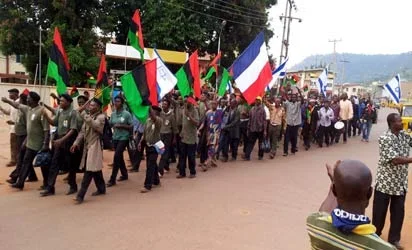 The group said no individual or group was capable of funding activities of a global movement that had presence in over 100 countries.
IPOB was reacting to a statement credited to the former leader of MASSOB, Chief Ralph Uwazurike, that some Nigerian politicians were funding IPOB.
IPOB spokespersons, Mr. Emma Nmezu and Dr. Clifford Iroanya, said in a statement that rather than accuse IPOB unduly, it was Uwazurike that allegedly collected money from politicians to fund MASSOB.
The statement read: "To set the records straight, one of the cardinal rules in IPOB is that we don't mingle with politicians, neither do we accept any monetary gift or inducement from any politician.
"This is one of the greatest frustrations of certain governors who have tried everything within their powers to induce IPOB with money, but we rebuffed them."