It was all jubilation and glamour as the crown prince of Benin, His Royal Highness, Eheneden Erediauwa, received his staff of office from the Edo State Government on Thursday.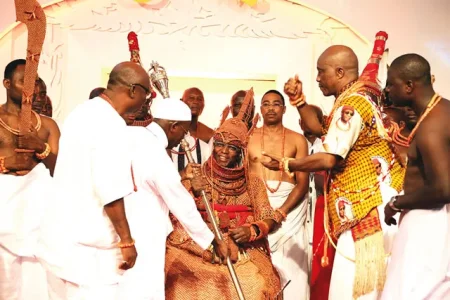 Erediauwa also announced the name he had chosen to bear as and would be addressed as Omo n'Oba n'Edo Uku Akpolopkolo, Oba Ewuare II, after Oba Ewuare I, who reigned in 1440 AD.
Oba Ewuare II, who was crowned in the early hours of Thursday at the Usama palace before he proceeded on foot accompanied by a retinue of Benin chiefs, members of traditional societies and thousands of residents to the symbolic Omi River, where he was paddled through a bridge.