Former President Olusegun Obasanjo in an interview to mark the occasion of his 80th birthday renewed his rivalry against Nobel laureate Wole Soyinka.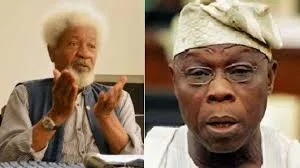 According to The Nation, asked whether he had forgiven Soyinka after the writer openly kicked against Obasanjo's aspiration to become United Nations Secretary General, the former President said: "You're absolutely wrong. I don't hold a grudge.
"Wole Soyinka is not God. And I don't believe there's any human being that is absolutely right. Wole Soyinka has what I believe he has. He's a gifted person in his own way.
"But Wole Soyinka is not an oracle. I will not accept Wole Soyinka making cathedral statement on everything. I don't believe that anybody could do that.
"So it's not a question of forgiveness. When Wole Soyinka does what I believe is right, I will commend him. When he says what I believe is not right, Wole Soyinka is a populist and I don't believe in populism."