Nollywood actress, Oge Aneke believes that young people are sexually loose due to lack of self-value, faulty parenting and lack of contentment amongst others.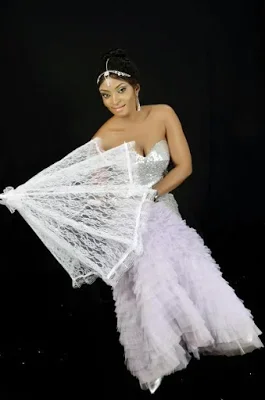 In an interview with LIB, Aneke disclosed that she was a virgin when she met her husband. See brief excerpt fro her interview:
How did you meet your husband?
Surprisingly, I first met him at my cousin's house in 2003 when I was still in secondary school but we had nothing then. It was after he graduated from the university that we bumped into each other at my cousin's wedding in Enugu in 2011. As a rookie who has never tasted a relationship before, it was not easy for me to give in to dating him, though he still managed to convince me after several rebuffs. We had some breakups and comebacks during the period until he proposed on October 1, 2015. And guess what? I said yes and the marriage rites was formalized on 9th Jan, 2016.
You said that 'you were a rookie and had never tasted a relationship before', Is it then right to say your husband was the first and only man you've ever dated?
If I must be candid, that means it's affirmative. Although, I had seen someone in between our breakups that didn't work out at the end.
And that means your husband deflowered you?
Absolutely, yes.
Wow, how does it feel knowing that you kept yourself until marriage?
It's a good feeling. Although, it's difficult to keep considering the industry we are involved in. But with sheer determination and God's grace, you can make it .