Oil steadied close to $57 per barrel on Monday as rising tensions between the United States, Iran and Organisation of Petroleum Exporting Countries, OPEC, supply cuts were countered by ample inventories and signs that higher prices will revive U.S. output.
U.S. energy companies added oil rigs for a 13th week in the last 14, data showed last Friday. Despite the OPEC cuts, U.S. crude inventories increased more than expected last week.
Benchmark Brent crude traded at $56.75 a barrel, down 6 cents, while U.S. crude was up 4 cents at $53.87.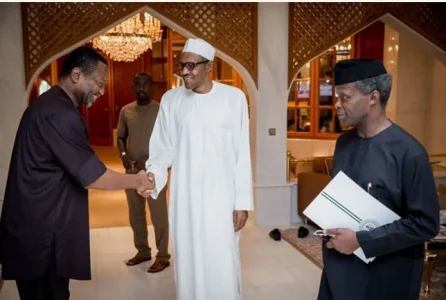 Meanwhile. the federal government yesterday unveiled new measures to turn around the Nigerian economy which last year plunged into its first recession in 24 years.
The Minister of Budget and National Planning, Udo Udoma who announced the measures at a government-private sector engagement forum on the Nigeria Economic Recovery and Growth Plan (ERGP) at the Presidential Villa, Abuja, said the new plan would enable Nigeria to attain a minimum GDP growth rate of 7 per cent within the plan's period
The minister said the programme would be implemented between 2017-2020.
He listed the immediate priorities of the recovery plan as agriculture and food security, energy (power and petroleum), small businesses and industrialisation, and stabilising the macroeconomic environment.