A former National Publicity Secretary, Chief Olisa Metuh has escaped assassination as armed men suspected to be assassins stormed his Abuja home on Tuesday night.
Special Assistant to Metuh, Mr. Richard Ihediwa, who stated this in a statement on Wednesday, added that the armed men numbering about eight, fired several shots and forcefully gained entrance into the compound after destroying a section of its spiked security fence.
He said that the armed men tied up security guards and a driver at the premises and attempted to gain access in the main building, but could not due to the security doors at the front and back entrances of the main house.
Ihediwa said, "When they could not gain access into the main building, they beat up the security guards and ordered them at gunpoint to call out Metuh using their phones, but the guards insisted that he was not at home but had travelled to the east.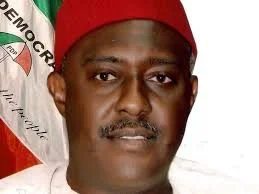 "Out of frustration, the invaders broke into other buildings in the premises including Metuh's out-office where they carted away some documents and electronic equipment.
"Their escape route trailed with blood as one of the armed men got injured in the course of their breaking through the spiked security fence."
Already, he added that Metuh, who he said was shocked as a result of the incidence, had made an official report to the police to unravel those behind the attack and intention manifested in the incidence.
He also said that Metuh's guards and driver are already assisting the police in their investigation