Most large cities in the developing world are breaching global air pollution guidelines, according to new
data
from the World Health Organization.
Onitsha, a fast growing city in Anambra, a South-East state in Nigeria, has been tagged the world's most polluted city according to a report published by the
World Economic Forum.
The list was gotten from the World Health Organisation's Urban Ambient Air Pollution Database (2016) which contains urban air quality data of 3,000 cities, collected between 2011 and 2015.
According to the report, "Of the 3,000 cities in the WHO's air quality database, the most polluted at the time of measurement was Onitsha, a fast-growing city in Nigeria, which recorded roughly 30 times more than the WHO's recommended levels of PM 10 particles. Peshawar in Pakistan was in second place, followed by Zabol in Iran."
See picture for the list of most 20 polluted cities in the world: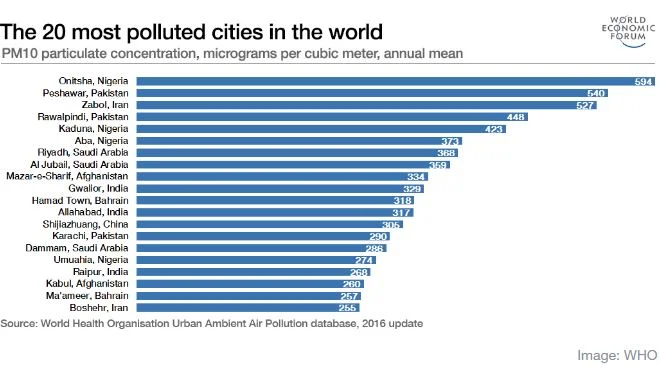 The WHO urban air quality database builds on well-established, public air quality monitoring systems as a source of reliable data in different parts of the world. National efforts to create operational and representative air quality monitoring systems should be strongly encouraged and supported.