Ooni of Ife Oba Adeyeye Ogunwusi has ordered the release of Hausas held captive by the Yorubas in the crisis that ensued on Wednesday.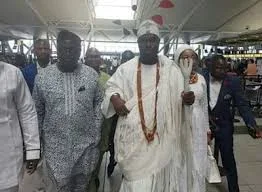 He also warned that nothing untoward should happen to them.
No fewer than 300 Hausa were taken captive by the Yoruba.
Oba Ogunwusi appealed to the warring factions to give peace a chance because, according to him, there is no gain in crisis.
Speaking through his media aide, Comrade Moses Olafare, the monarch said he had instructed some palace men to see to the rescue of the Hausa who were captured by the Ife.
He said peace would soon be restored between the two warring factions.
He said: "As Hausa are sojourners on this land of Ile-Ife likewise Ife indigenes live in other towns and cities across the country and in diaspora.
"Let's give peace a chance and maintain peace and harmony in the land."
Also, the Elejesi of Ejesi Kingdom, Ife, Oba Babatunde Awosunle, called on the people to allow peace to reign in the land.