Former Minister of Foreign Affairs, Chief Tom Ikimi, is claiming that former President Goodluck Jonathan helped Governor Adams Oshiomhole win his 2012 re-election.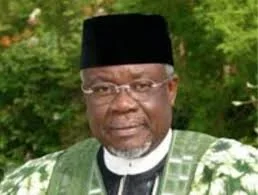 Chief Ikimi disclosed that the party was set to drop Governor Oshiomhole after his first term but that Oshiomhole begged him to be given a second term ticket; DAILY POST reports.
Speaking at the flagging-off of Pastor Ize-Iyamu governorship campaign, Ikimi said, "Pastor Ize-Iyamu brought Oshiomhole to me. I never knew him before. I was told he was a former Labour leader. I was persuaded to accept him and we took him round the 192 wards.
"In his first four years, he betrayed us. We wanted to drop him but he knelt down to beg me. It was myself and Pastor Ize-Iyamu that took Oshiomhole to former President Jonathan to beg him to provide a level playing field.
"Jonathan supported us. Oshiomhole won not because he was brilliant, but he has paid us in band coin."