The Vice President, Prof. Oluyemi Osinbajo on Thursday at the 1st National Forum on the Economy held at the Airport Hotel, Lagos, and organised by the Vintage Press Limited (Publishers of THE NATION Newspapers) under the theme, "National Economy: The Way Forward." revealed how some individuals under the past government stole the national commonwealth which, he said, was up to half of the country's foreign reserves.
At the forum, Osinbajo lamented the devastative impact of corruption on the national development, noting that the amount of resources individuals "have pocketed in this country is what accounts for where we are today.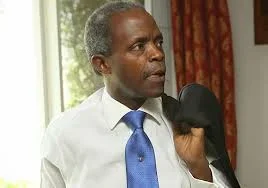 "If some individuals can make away with $3 million in just one sector and $4 million from another sector, you can understand perfectly why we are facing the current challenges", he said.
"Our foreign reserves stand at $27 billion. If some individuals can make away with half of our foreign reserves, we will not have been able to see monies coming in. Those individuals may not be able to account again. In the future, it will not be acceptable. It will not be tolerated."