Put Mesut Ozil in charge of Arsenal's transfer plans and you would be able to build a very interesting team.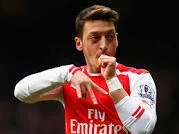 Whilst on international duty, the midfielder was involved in a fan Q&A with Germany's official Twitter account.

And one supporter asked the 27-year-old to name the three players he'd sign if he were in charge of a club.
Ozil's response: Zinedine Zidane, Gunter Netzer and Cristiano Ronaldo.
While Zidane and Ronaldo are household stars, Netzer may be unfamiliar pick with many Gunners fans.
Netzer was part of the West Germany team that won the European Championship in 1972, while two years later, he helped guide his nation to victory in the World Cup. The former midfielder is one of Borussia Monchengladbach's legendary players, while he also won La Liga twice in his three years at Real Madrid.