President Muhammadu Buhari has reportedly spoken to Katsina state governor, Aminu Bello Masari on phone.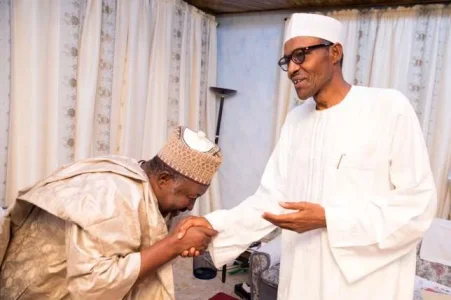 The Governor made the disclosure during an interview with VOA Hausa. He said, ''On Saturday I spoke with the president on phone, he is hale and hearty. All those castigating rumors on the health condition of the president should think twice and change their mindset.
'''The president is on vacation for medical check-up which is in line with the Nigerian constitution where he assigned all the responsibility to his vice at full autonomy pending when he comes back.
''Therefore, the president did not break any law by leaving for medical vacation. Last Wednesday I called the Emir of Daura and that of Katsina directing them to engage in special prayers for the president, which they did during Friday session prayers."
''We will not stop praying for the president, we shall keep praying till Almighty Allah answers our prayers. Praying for a leader is a mandate to every Nigerian irrespective of religion. Both scriptures direct us to pray for our leaders."