President Muhammadu Buhari on Wednesday inaugurated six newly-appointed national commissioners of the Independent National Electoral Commission.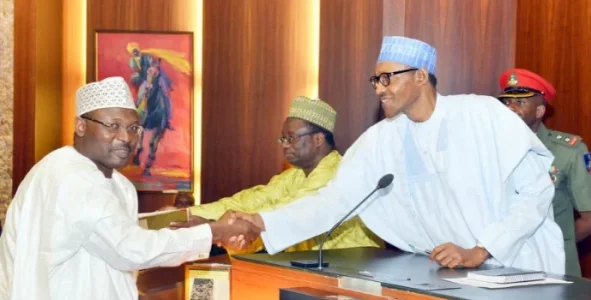 The ceremony took place inside the Council Chambers of the Presidential Villa, Abuja shortly before the commencement of a meeting of the Federal Executive Council.
Those inaugurated included:
Dr. Ogunmola Ladipo (South West)
Mrs. May Agbamuche-Mbu (South South)
Abubakar Nahuche (North West)
Prof. Okechukwu Ibeano (South East)
Mr. Muhammadu Haruna (North Central)
and AVM Ahmad Muazu (retd.) (North East).
Shortly after their inauguration, Buhari noted that their appointments came at a critical time in the nation's political development.
He said his administration was concerned about the integrity of the nation's electoral process.
He said it was his desire to ensure that Nigerians are allowed to elect their leaders according to their conscience.