President Muhammadu Buhari in Abuja yesterday, told editors and newspaper executives in a brief interview to mark the administration's first year in office that the biggest shock he had during the past year as President.
On Naira Devaluation:
He said in the course of its history Nigeria became an oil economy and "we left agriculture and solid minerals and everyone went to the city to look for oil money."
Buhari also spoke at length about his opposition to naira devaluation. He said when he was military Head of State in 1984-85, World Bank and International Monetary Fund [IMF] experts advised him to devalue the naira and remove subsidy on petrol and flour. He said even though they pressed him hard, he did neither of the two.
He said this was because countries that benefitted from currency devaluation were developed countries that produced more products after devaluation and were able to export more because their goods became more competitive.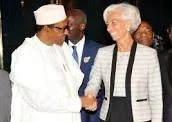 On New Fuel Pump Price Regime

Buhari said, that Nigeria's petrol was being smuggled out to neighbouring countries because it was very cheap but he countered that what our neighbours consume is only about one large Nigerian city's supply.
President Buhari also said, "When I was removed [as military Head of State] in 1985 the dollar was one naira fifty kobo. Now naira is 350 to the dollar. Tell me the benefits we derived from that. How many factories were built in those years?
Economists are not able to explain this to me. I am still waiting for economists to tell me why we should continue to devalue the naira. However, I don't rule the country alone, so we must accommodate the economists."
Buhari also said contrary to what observers think, he believes in privatisation of state owned firms. "It is much more efficient," he said.
He however said NNPC's four oil refineries must be revitalised before they can be sold because he will not agree to sell them as scrap. He recalled that as Federal Commissioner for Petroleum Resources in General Obasanjo's military regime in the 1970s, he signed contracts to build Warri and Kaduna refineries and to expand Port Harcourt refinery as well as build the depots and pipelines.
He said, "Should we sell them as scrap? We cannot spend so much of our national resources to develop infrastructure and then sell them a scrap. We must first take into consideration our state of development. We must repair them first so we can negotiate with the buyers from a position of strength."
Source: DailyTrust Newspaper