Peoples Democratic Party (PDP) chieftain in Ekiti State, Hon. Opeyemi Falegan, has said no arrogant or disrespectful leader no matter how rich or influential can be voted for, to lead the country.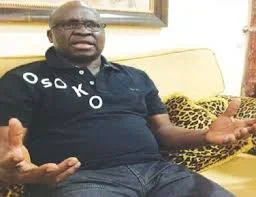 The chieftain also named 7 Nigerian statesmen among those Fayose has offended and who will remain as impediment to his bid
‪Falegan said: "Except through a military coup which is no longer fashionable and acceptable in Nigeria and Africa in general, a leader of little or no respect for Elders cannot be allowed to rule the country."
‪The United Kingdom based politician spoke in a release made available to newsmen in Ado Ekiti while reacting to a statement credited to Ekiti state governor, Mr Ayodele Fayose, that the greatness of Nigeria would be built on his shoulders soon.
‪Falegan described the governor's statement as "a wishful thinking of a personality without pedigree and antecedent to actualise such dream.".
‪"Disrespect and arrogance being displayed by Gov. Fayose against some of the leaders in Southwest and Nigeria as a whole especially those he believes are not on the same political page with him is worrisome and shameful to Yoruba race.
‪"Unnecessary ranting, vulgarity and outburst of Ekiti State governor against elder statemen like President Muhamadu Buhari; former President Olusegun Obasanjo; his benefactors, Chief Bode George, Senator Ali Modu Sheriff, Sen.Buruji Kashamu, Sen. Clement Awoyelu and the late Ojo Falegan among others will at all times be an impediment to such a dream."
‪"It is a wise saying that, 'a good name is better than riches and gold' and charity they say, begins at home. Anybody who cannot accord his kinsmen due respect, I think, is not capable to lead a population of over 170 million Nigerians, except we want to turn the country to a theatrical arena.
‪"The greatness of Nigeria depends on, competent and serious hands and not an experimental or comedian-like leadership. Governance is a serious business and Presidency for that matter, requires more seriousness, aptness and competence.