Primate Ayodele Elijah, founder of the INRI Evangelical and Spiritual Church, in his second set of prophecies for 2017 said that President Muhammadu Buhari may be forced to resign.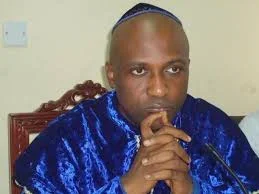 According to NIGERIAN TRIBUNE, Primate Ayodele said "It is sad that we are not taken seriously when we warned earlier in newspapers and other media outlets. When a nation ignores God's warning, certain things happen.
"I warned Nigeria of certain occurrences as published in the Daily Champion of December 30, 2015. In my book Warning to the Nations 2016/2017, I said there would be a new CAF president. I also warned of Magu's rejection.
"It is on page 186 of the book. I also warned of the deaths of General Samuel Ogbemudia and General Adeyinka Adebayo.
"In the same vein, President Muhammadu Buhari still needs prayers because he may likely resign midway as a result of his health condition, unless prayers are intensified.
"Buhari will face political challenges. Some unexpected people will be removed from his cabinet. Some governors will gang up against him. In APC, there will be wrangling before and after the party convention.
"The crisis in the PDP will break it. Some northern governors will run into crisis that may jeopardise their political calculations. The economy will improve between May and July. Government should reform CBN and NNPC.
"The perpetrators of herdsmen killings will be exposed. Our security outfits should be alert as Boko Haram would devise new dimensions of attacks. There will be an increase in petrol product, as the price of petrol may change.
"Flour will be scarce. Charcoal will be expensive at the middle of the year. I see division in the National Assembly.
"The fight against corruption by the EFCC should be sustained but the former governor of Adamawa State, Mr James Ngilari, should be pardoned so that his political career will not be ruined," he stated.