Former Presidential Aide, Reno Omokri has again thrown his weight behind embattled Apostle Johnson Suleiman of the Omega Fire Ministries.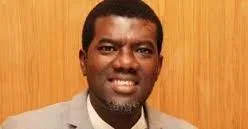 He used Nollywood actor Leo Mezie's story to poke holes in Stephanie Otobo's statements about Apostle Suleiman.
Omokri wrote, '' Was Apostle Johnson Suleman sleeping with Nollywood Actor, Leo Mezie, when he paid his entire medical bill of £60,000 for kidney transplant in UK? This is what they don't tell you! Was apostle Suleman sleeping with the nine poor Nigerians (male and female) he gave cars to on February 5th, 2016? Was he sleeping with the 30 widows and other indigent people that he gave out millions to to start their own businesses?
''This is Leo Mezie's testimony 'I want to at this point thank Apostle Suleiman Johnson for all what he did for me. I have never met him before; I took ill but as soon he heard the news, he contacted me and asked that we stopped all further public appeal for fund.' This is a man with a Christlike mind who lives and loves to help people and you wicked souls who will not even spare a dime to help your own starving relations, how much more a stranger, come here to condemn him!
READ:
Leo Mezie: 1 Million Stephanie Otobos Cannot Stop Apostle Suleiman