Reno Omokri on Friday disclosed why Governor Nasir El-Rufai's memo to President Muhammadu Buhari was leaked.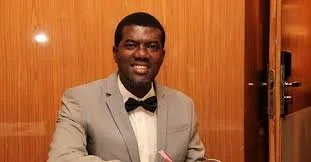 Omokri who accused El-Rufai of orchestrating the leak said it was done to take attention away from the Governor's role in the Apostle Johnson Suleiman sex scandal.
Omokri tweeted, "Why was El-Rufai's memo to PMB (President Buhari) only leaked after Apostle Suleman raised alarm of El-Rufai's sponsorship of his prostitute accuser?"
''See how the narrative shifted from the trail of breadcrumbs behind the harlot to the memo. A classic diversion."
''Hilary Clinton said 'If I want to knock a story off front page I change my hairstyle', by leaking the memo, El-Rufai changed his hairstyle."
''When a tiger finishes attacking it's enemies and has none left, it attacks it's friends. El-Rufai is a tiger. A tiger's nature is to attack!"