Maj. General Lucky Irabor, the Theatre Commander, Operation Lafiya Dole on Thursday, paraded a repentant Boko Haram member, Mohammed Abubakar.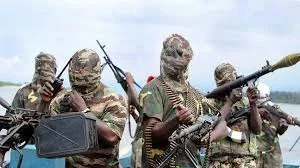 The repentant terrorist whose left leg and right hand were amputated for attempting to flee from Sambisa forest and surrender to troops told his story to the press.
He said, "I once told my friend Hassan Danguduma we had to flee and surrender because our activities are unIslamic, he pretended as if he supported the idea, but leaked the secret to our Amir. So they amputated my left leg and right hand from the wrist. But I managed to escape after spending two years with them. I was abducted from Wulgo Hausari village of Gamborou Ngala local government but for fear of being killed, I joined the group. I'm loyal to Mamman Nur-led faction."
"They said I was planning to expose them to the Nigerian Government, so they did all this to me. After they chopped off my left leg and right hand, they threw me into a culvert where I was left struggling, until soldiers came and rescued me"
"All I can say is that all we had been told by Boko Haram leaders were lies and misleading. I never joined them to kill anyone," he said.