Friday William, a retired army officer has reportedly hung himself to death in Calabar, Cross Rivers state.
According to Vanguard, William, who hails from Mkpat Enin, Akwa Ibom State, was said to have allegedly tied a rope on a mango tree outside his apartment at 34, Edim Otop Street in the night of Tuesday while his family was asleep and hung himself.
Although the reason for his act is yet to be ascertained, sources alleged that the man who fathered eight children, may have been mentally challenged.
According to a neighbour, Abasi Imoh, "The man had about three cars and got a lot of money from his retirement benefits two years ago and was living well which is the reason many people are surprised with his action".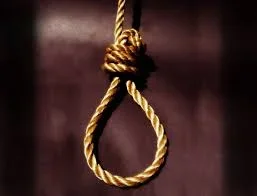 "Before hanging himself, the retired captain reportedly sent a text message to his son, who lives in Port Harcourt at about 10pm, to condole with him over his death and advised him to be strong to take care of his siblings, but the son did not see the message until he got a call the next morning that his father had committed suicide and I feel he had tied the rope ready for the act before he sent the text," Abasi added.
Meanwhile, the remains of the retired captain of the Nigerian Army has been reportedly taken to his home-town.