President Muhammadu Buhari is currently receiving intense treatment for prostrate cancer, SaharaReporters has revealed.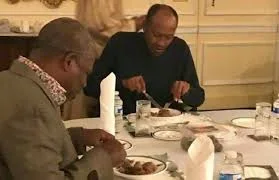 Sources close to the presidency have also disclosed how UK doctors are handling the treatment of the ailment.
It was revealed that Buhari's original surgical treatment for prostate cancer had been declared successful but doctors in France and later Germany had advised him to seek medical help in UK.
After his first visit to UK ,doctors advised that he needed to stay put in London for another surgery, but the president bowed to pressure from members of his inner circle and decided to make a premature return to Abuja out of political expediency.
However, before President Buhari left London, his doctors there removed polyps from his nostrils in a surgical procedure to ease his breathing.
SaharaReporters learned that President Buhari currently receives intense treatment for a prostate-related ailment. The treatment at a point severely affected his voice and appetite. He has progressively lost weight and has had to be force-fed on occasion on the orders of his doctors.