As the trial of the Senate President, Bukola Saraki resumed on Wednesday at the Code of Conduct Tribunal, CCT, counsel to the Senate President, Kanu Agabi, has appealed to the Chairman of the tribunal, Danladi Umar, to end the trial this year.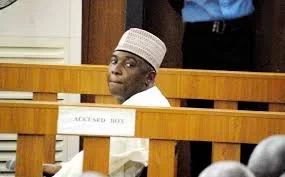 The trial which dragged on for most part of 2016 has seen just one witness of the government, Micheal Wetkas, an operatives of the Economic and Financial Crimes Commission, EFCC, reeling out several claims in relation to the charges against Saraki.
At today's resumed trial, Umar welcomed counsels for both the prosecution and the defence, saying he hoped 2017 proceedings would be rancour free, adding that he believes everyone is happy to be back at the tribunal.
Shortly after making the statement, Agabi snapped back, saying the defence was not happy to be at the tribunal.
"Our prayer this year is that you free us from all these. We are not happy to be here.
"It is my fervent prayer that this matter will end in peace," Agabi said.