Senate President Bukola Saraki has dissociated himself in the importation of a vehicle seized by the Nigeria Customs Service (NCS).
On Tuesday, Ali Ndume, a senator from Borno state, raised a point of order asking the senate to investigate an allegation that the upper legislative chamber was exacting vengeance on Hameed Ali, comptroller-general of the customs, because the agency seized Saraki's car.
The senate ordered an investigation into the allegation.
Olaniyonu said from facts and documents on the seized vehicle, "it is obvious that the senate president has nothing to do with the importation of any vehicle".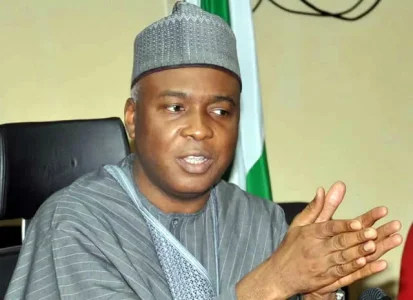 "A supplier was engaged by the senate to supply a vehicle. While transferring the vehicle between Lagos and Abuja, it was impounded by the customs. We believe that is an issue between the supplier and the customs because the senate has not taken delivery. So, why is somebody trying to drag in the name of Saraki into the issue," he said.
"The documents on the vehicle are there for the general public to view and make their conclusions. Now, that the matter has been referred to the committee on ethics, privileges and public petitions, all the facts will be out."