Senate President Bukola Saraki is claiming that Ibrahim Magu, acting chairman of the Economic and Financial Crimes Commission, EFCC was not disqualified because of the DSS report.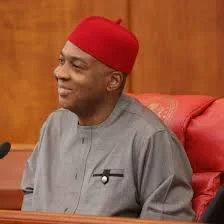 Saraki who is currently in Morocco for an African summit on climate change and food security told TVC that Magu's rejection was for an entirely different reason.
Saraki said, "You are jumping into conclusion that he (Magu) was rejected because of the accusation. I don't think there was anywhere we said he was rejected based on accusations.
"We have nominees that come all the time with different issues. Two weeks ago, we screened the Chief Justice of Nigeria and he scaled through.
"Now the EFCC chairman came and he did not pass the screening. Someone else will come and may pass. This is our constitutional role and I don't think we should personalise or politicise this."