prince Adeyeye Enitan Ogunwusi was born 40 years ago to the Ojaja Royal compound of Agbedegbede in the Giesi Ruling House, attended The Polytechnic, Ibadan, where he obtained a Higher National Diploma (HND) in Accountancy.
He went into business and became a property merchant.
Adeyeye Ogunwusi is currently the Managing Director of Howard Roark Gardens Limited which is undertaking multi-million naira Jacob Mews Estate project in Yaba and the Lakeview real estate development in Lekki.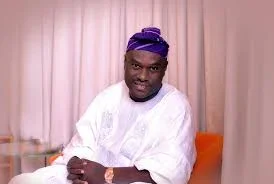 Prince Adeyeye Ogunwusi is best described as an astute entrepreneur driven by turning 'impossibilities to possibilities'. His power of imagination has set him aside hence revolutionizing his approach to creativity and innovation. He is a distinct achiever with the conscience of youthful excellence.
The ambitious Young Prince with exceptional savvy business ideas delved into Engineering, Procurement and Construction (EPC) locally and abroad for over 12 years. He is also actively involved in the development of over 2,500 housing units with various consortia of developers within the last 8 years. In Nigeria, He set up and fostered strong trade relationships through the Association for International Business (AIB) with presence in over 200 member countries across the globe. One of the laudable achievements of this body includes the trade facilitation between the United Arab Emirates (Jebel Ali free Trade Zone development) and the Federal Government of Nigeria through the Nigerian Investment Promotion Commission (NIPC).
His profile on the website of Imperial Homes Mortgage Bank Limited (a subsidiary of GTBank) reads: "Mr. Ogunwusi is a graduate of Accountancy and a certified member of the Institute of Chartered Accountants of Nigeria and of the Institute of Management.
He was involved in the development of the Northern Foreshore Estate, Cityscape International Limited's Buena Vista project in Lekki, Primewaterview Limited's projects, Westcom Limited's projects, and the Ajaokuta Steel's and Delta Steel's resuscitation projects.