Embattled Senior Pastor of Omega Fire Ministries, Apostle Johnson Suleman, has urged his teeming followers to put an end to the on-going media war over the allegations of sexual impropriety levelled against him by his purported lover, Stephanie Otobo.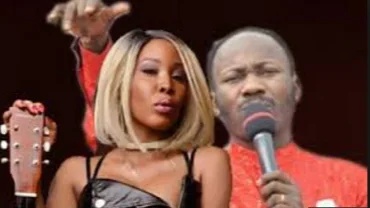 Suleman made the call following the last media onslaught launched by Ms. Otobo alleging that his manhood size is 'average' but good for satisfying sex
In a statement issued by his Communications Manager, Phrank Shaibu, the fiery pastor, who said the media commentaries had over stayed their relevance, told his followers that the battle was no longer human but spiritual.
He, therefore, warned them to desist from posting any more Facebook videos on the issue but promised to deal with the allegations spiritually.
The statement reads: "It has become imperative that we advise all Omega Children and Christians Worldwide to put an end to the on-going media war that we have engaged in.
"The commentaries have since overstayed its relevance and we should no longer allow ourselves to be distracted by it.
"Every wise person would know that this is not a battle of humans but one between the Kingdom of God and that of darkness.
"Therefore, NOBODY is permitted further to issue a statement or comment on the matter. All Facebook Live Videos on the issue should also stop forthwith. It is advised that we spend our time concentrating on more relevant issues that bothers on the Kingdom.
"We are well aware were all these are coming from and we will deal with it spiritually."