The National Leader of the All Progressives Congress (APC) yesterday at the Silverbird Awards ceremony schooled the founding President of Silverbird Group and Bayelsa Senator, Ben Murray-Bruce that he has no reason to complain again about government but should use his position to take action.
Tinubu while delivering his acceptance speech at the ceremony noted that Senator Murray-Bruce had touched a raw nerve when in an emotional speech earlier where he bemoaned the fact that Nigerians lack a sense of history and have been unable to preserve our archival materials.
Asiwaju Tinubu noted "Senator Murray-Bruce, I have a common sense solution to the issues you have raised especially regarding preserving our history. You had a reason to complain before but not any more. You are in the Senate now just sponsor a bill that will reinstate History in Nigerian Schools.
The whole venue errupted in applause.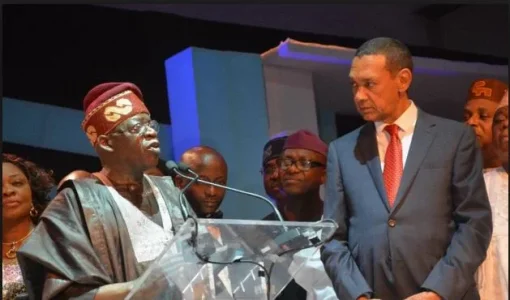 Tinubu went further to ask Senator Solomon Olamilekan (Yayi) if he would support such a bill, the APC Senator representing Lagos West responded in the affirmative and Tinubu then turned to Senator Murray-Bruce and said "Ben, the ball is now in your court".
On the issue of piracy also raised by Murray-Bruce , the Jagaban Borgu and former Lagos State Governor stated that the owners of intellectual property must go digital because that way, they can keep their works secure and also will be able to store large volumes.
He then added jocularly "instead of buying N37m SUV (I hope you did not receive one, Murray-Bruce said no) the money should have been used in putting structures and setting up equipment for those who keep all these works".
Source: TheBoss Newspaper