Somalia's presidential election has moved to a second round Wednesday as the number of contestants dropped from 21 to three while politicians peeled off wads of hundred dollar bills to buy votes.
The election is being held at an airport hangar amid tight security in Mogadishu for fear of Al Shabaab attacks.
In the first round of voting, the incumbent Hassan Sheikh Mahmoud was leading with 88 votes, followed by former Prime Minister Abdullahi Farmajo with 72. Former president Sharif Sheikh Ahmed was third with 49 votes and current premier Omar Abdirashid Sharmarke was fourth with 37.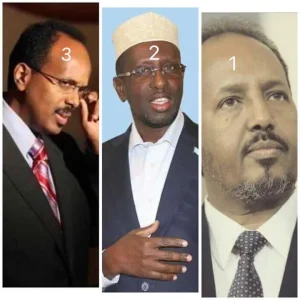 The four top candidates qualify for the second round of voting but Mr Sharmarke has withdrawn from the race, leaving the three.
Unlike 2012 when the president was elected by 135 clan elders, the current election initially involved 14,024 persons designated by the elders, who picked 275 MPs and 54 senators.
The members of the bicameral Parliament now vote for the president as the country prepares for one-person one-vote in 2020.