The parents of Ese Oruru, the 14-year-old girl who was abducted and impregnated by one Yunusa Dahiru, who took her to Kano, have alleged that there were plans to steal their granddaughter, by some young men.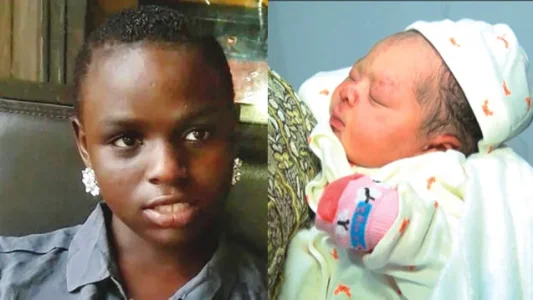 Her parents raised the alarm in an interview with Punch on Saturday that there have been persistent threats by some people to take away their teenage daughter's three-month-old baby girl.
They explained that their fear was based on recent events, one of which included an assault to one of Ese's siblings.
Ese mother, Rose, said, "Towards the end of July, a man traced us from the court to the Police Officers' Mess in Yenagoa (Bayelsa State capital). We later overheard him talking in Hausa language to someone on the telephone that he had located the place where Ese and her baby were staying.
"He said that they don't want the baby to grow up with 'these people,' meaning us.
Ese's mother added that the same man was with Ese's alleged abductor, in the court premises during one of the proceedings, wearing a red cap.
The Orurus said they reported the separate assault incidents to the Bayelsa State Police Commissioner, who then ordered that the security around the Officer's Mess be beefed up.
The number of police officers guarding the premises has since reduced, the family said. "This is why I am even more afraid now." the mother told Punch correspondent.
"With this incident, I am afraid anything can happen, and I don't want any of my daughters to be kidnapped again," Ese's father, Charles, said.
The Police Public Relations Officer, Bayelsa State Command, Asinim Butswat, in a text message sent to Punch correspondent, said the state police command "had not received any report of threat to the family."