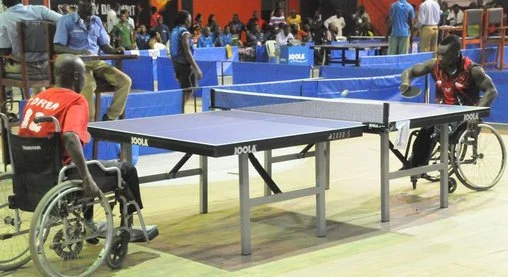 Team Nigeria on Monday won two more bronze medals to increase its tally at the ongoing 2014 Commonwealth Games.
Impressively was the showing of the men's Table Tennis team who defeated India in the event to cement third place.
Veteran player,Segun Toriola showed no signs of ageing,while Ojo Onaolapo equally showed that he is ready to take up the mantle as the next Nigerian star in the Ping Pong event.
Onaolapo easily went past India's icon Achanta Sharat,comfortably beating him 3-1 today.
Aruna Quadri equally won his own single's game by the same margin beating his Indian opponent 3-1.
Both Toriola and Onaolapo combined to win in the doubles event,winning by 3 games to 2.
Meanwhile Nigeria's other medal came through Richard Okigbazi who won the bronze medal in the men's Para-Sport Discus Throw-F42/F44.
Okigbazi with a personal best of 39.38m throw was able to garner 844 points that secured him third place.
His compatriot Sunday Ezeh finished in sixth position in the same event,amassing a total of 736 points.
Team Nigeria has now gone down to 11th position on the medal table,but have increased the tally to a total of 8 medals won.