The Concerned Ijaw Transformation Ambassadors (CITA) has advised Bola Tinubu, Prof. Wole Soyinka, Pastor Tunde Bakare, Hon. Patrick Obahiagbon, John Oyegun and the leadership and members of the Save Nigeria Group to tender an unreserved apology to former President Dr. Goodluck Jonathan over their role in the Occupy Nigeria protest.
This was contained in a press statement signed by Amb. Arerebo Salaco Yerinmene Peters. President, CITA and Comrade Obiri Wenebokefe Jonathan, Spokesman, CITA.
CITA said that these professed patriots incited and led Nigerians to protest against the removal of subsidy on Premium Motor Spirit. "They blatantly criticised this policy of Dr. Goodluck Jonathan as a sheer scam targeted at unleashing untold hardship to the average Nigerian and sponsored protests and demonstrations which even led to the death of some Nigerians.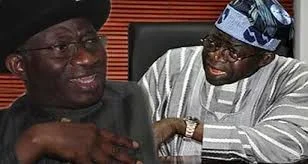 "We are berserkly puzzled that these same persons who feigned patriotism and advocacy for social justice turned a new leaf and now pioneer and celebrate the removal of fuel subsidy under President Muhammadu Buhari.
"Was the Save Nigeria Group a sheep covering veiling a calculated synergy to make Nigeria ungovernable for Dr. Goodluck Jonathan?.
"On behalf of the foregoing, we direct the Save Nigeria Group and its leaders and members to tender an unreserved apology to Dr. Goodluck Ebele Jonathan", the statement reads in part.