US President-elect Donald Trump has been accused of hiring prostitutes to pee on the hotel bed the Obamas had slept when they visited Russia.
The report is said to have been compiled by a former British intelligence official who researched Trump for his Republican rivals. Buzzfeed warns that the report is unverified but has been making the rounds in top circles; meaning the FBI and CIA and top journalists knew about it even before election day. So, Buzzfeed decided published it because they want Americans to know about it and draw their own conclusions.
#GoldenShowers is currently trending on Twitter due to the report.
See screenshot: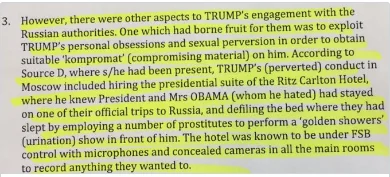 Trump has since come on Twitter to deny the report referring to it as 'fake news'