Senator Athan N. Achonu of the Peoples Democratic Party (PDP ) representing Imo North, has attributed the on-going agitation for the realization of Biafran state as a result of unemployment among the youths which is worsening economic situation in the country.
The senator, who spoke over the weekend also urged the Federal Government to tackle unemployment rather than the promised N5,000 monthly stipend, stressing that such palliative was not the solution to economic problems neither was it feasible considering the huge number.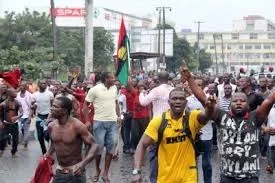 He stressed that if the people, especially youths were gainfully employed, they would not have resorted to street protest.
" If these men agitating for the state of Biafra are gainfully employed, they will not be in the streets protesting. There is hunger in the land and the government should do all it can to address the socio-economic challenges confronting the nation", Achonu stated.
He continued: " Only a few people are making a living.
-
Guardian