The management of the University of Abuja on Monday shut down the institution following students protest over the ongoing indefinite strike embarked upon by the academic staff of the school.
This is contained in a circular signed by the university's registrar, Mallam Mohammed Modibo.
The circular said the Vice Chancellor, Prof. James Adelabu, had on behalf of the senate, approved the closure of the institution until further notice.
"I am directed to inform you that given the prevailing situation in the university, the Vice Chancellor, has on behalf of the senate, approved that the university be closed down until further notice,'' it said.
The circular directed the students to vacate hostels and university premises immediately, adding that further development would be communicated to them.
The circular was pasted at the university gate late on Monday.
The protesting students had earlier gathered at the university staff quarters at Giri, near Gwagwalada, with mats insisting to see the Vice Chancellor.
They said they would not leave the area until the strike was called off.
Some of the students, who spoke to newsmen, said they were always at the receiving end whenever there was a strike.They urged the union and the university authority to dialogue and put an end to the strike.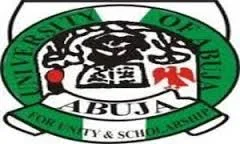 #UniversityofAbuja