The U.S. has warned the embattled President Yahya Jammeh of The Gambia, saying he is losing opportunities to peacefully handover to President-elect Adama Barrow and avoid the consequences of his actions.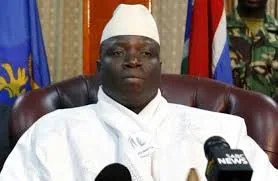 Jammeh's tenure ends Jan. 19, the same day that Barrow is expected to be sworn-in as his successor.
Both the African Union and ECOWAS have said that Jammeh will cease to be recognised as Gambian President from the date.
Spokesperson of the U.S. Department of State, Mr John Kirby, said at a press briefing on Tuesday that Jammeh should embrace the opportunity of handing over peacefully or see his legacy and The Gambia in peril.
"President Jammeh is losing opportunities to respect the will of the Gambian people and to peacefully hand over power to the president-elect, which is supposed to happen on Thursday.
"Doing so would allow him to leave office with his head held high and to protect the Gambian people from potential chaos.
Yahya Jammeh
"Failure to do so will put his legacy – and, more importantly, the Gambia – in peril, and we have been clear about this," he said.
According to him, the accusation by Jammeh of external interference in The Gambia's internal affairs is not tenable.
"I don't know what interference he's referring to, but we obviously want to see The Gambia succeed.
"And we want to see the president-elect properly installed and to have in place a government, which is responsible for and responsive to the needs of the Gambian people."
The U.S. had on Friday, indicated support for ECOWAS to take all necessary action on Jammeh if he fails to handover to Barrow.
.