A mysterious flying object believed to be a US spy drone flew into a toilet of a house located at Awotan in Ido Local Government Area of Oyo State, Nigeria.
According to Nigerian Tribune, aviation sources are saying that the spacecraft with registration number TX 5803, inscribed on a black battery is a drone which must have taken off from NASA base in Texas in the US, stating that the battery attached to the spacecraft powered it and enabled it to move around so that it could do the bidding of those who sent it.
The suspected drone has since been handed over to security operatives for further investigation amidst speculations that the suspected drone is United States' latest spying venture in Nigeria.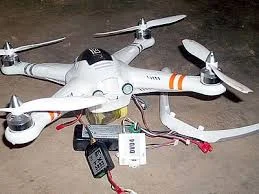 Photo Credit: Nigerian Tribune