The Biafran Independence Movement has urged underperforming governors in the South-East to vacate their offices since they have lost focus and derailed from their political promises.
BIM also alleged that some of the governors were good at building and establishing industries and constructing roads on television screen, whereas those roads they claimed to have spent billions of naira to construct remained deplorable, few weeks after their inauguration.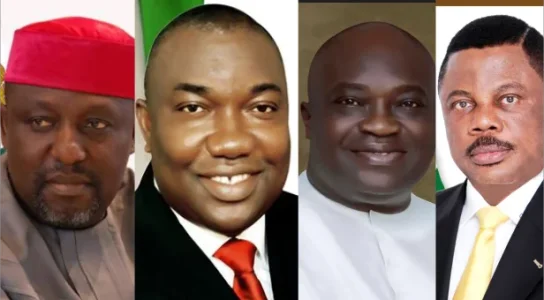 A statement issued yesterday in Umuahia, Abia State, by the Biafra Zonal Information Director, Anselm Ogbonna, noted that the governors had disappointed the electorate.
He said, "l really mean my word, they should vacate their political offices now because they have lost focus.
"They have fed the citizens with the dividend of lies instead of dividend of democracy. Workers' salaries are being paid over the radios and on the pages of newspapers; not in the offices.
"Pensioners who worked with their blood to uphold the integrity of Nigeria are neglected; the politicians abandoned their pension payment. This has resulted in their death on a daily basis."
The spokesman further lamented that Fulani herdsmen were robbing residents, raping Igbo women at gunpoint, while South-East politicians watched.
"Majority of these politicians have tactically supported the grazing bill because they have cattle which these Fulani are raring for them. The worst of it all is that these Fulani are raping women of those communities at gunpoint.
"I want to tell them that if such continues in any of the communities in Igbo land, we must hold these politicians responsible," he said.