A woman posted on her Facebook page the video of a supposedly maid blowing his Madam with hand-fan at the hairdresser while she was making a hair at close to 2hours.
Francesca Joseph-Esenwa's video of an underage girl maid fanning her 'madam' for two hours at a salon has gone viral on social media.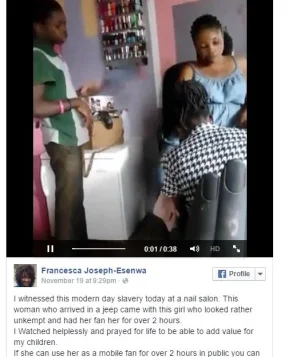 She wrote: "I witnessed this modern day slavery today at a nail salon. This woman who arrived in a jeep came with this girl who looked rather unkempt and had her fan her for over 2 hours.
I Watched helplessly and prayed for life to be able to add value for my children.
If she can use her as a mobile fan for over 2 hours in public you can then imagine what she uses her for behind closed doors.
No help for this children as we watch them being abused.
No school.
Still hurt by this.
Sad."