The Nigerian Senate today refused to screen President Muhammadu Buhari's nominees for the position of Resident Electoral Commissioner of the Independent National Electoral Commission.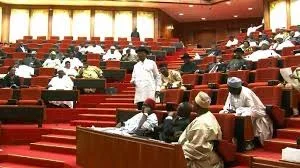 READ:
Why These 7 Senators Stood Down Buhari's Request On INEC RECs
A video of some of the Senators making their case before turning down the nominees has been posted online. In the video, Senator Francis Alimikhena, said, "When doing something, do it well. What if we refuse one the nominees? That is the question the distinguished senators are asking the executive,"
"There is no need for us not to confirm one, and when he goes back, they say, 'you can continue to act'. So, if we disqualify a candidate and the person continues to act, why did they send the names here in the first place? Let's not act on these names until the president explains what happened to Magu.
See video: