The Christian Association of Nigeria in Abuja, on Thursday, said the long absence of President Muhammadu Buhari from the country had not created a vacuum in the Presidency and governance.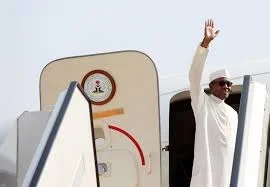 The organisation called on its members nationwide and in the Diaspora to continue to pray for the President "until he returns back to the country hale and hearty."
The President of CAN, Dr. Samson Ayokunle, said this in a statement issued on Thursday by his Special Assistant on Media and Communications, Dr. Adebayo Oladeji.
Ayokunle expressed optimism that the acting President, Prof. Yemi Osinbajo, "is up to the task unlike what happened during the Presidency of the late Umaru Yar'Adua."
He said, "We don't see the need for any hue and cry being made by some people that his unprecedented absence could create a vacuum in the Presidency since President Buhari has done what is needful by transferring power to the Vice-President, Prof. Yemi Osinbajo (SAN), who is up to the task.
"The Church should also continue to pray for him (Osinbajo) for divine wisdom, knowledge and understanding as he discharges his constitutional responsibilities. I call on all well-meaning Nigerians, especially Christians, not to cease praying for President Muhammadu Buhari as he takes further rest as advised by his doctors until he returns to the country, hale and hearty, to continue his good works.