A Chibok man(name withheld) who was part of the delegation that visited President Goodluck Jonathan claims that himself and other Chibok delegates were given N100,000 by a strange man not the President; Leadership reported.
The Chibok man said "We were not told of any money given to the visiting Chibok community by the president while we were there, except for this man that came and shared some money among us that night".
He said, after giving N100, 000 to each of the 51 escaped girls who had attended the meeting, the man gave some of the parents N200, 000 each and later gave the others N100, 000 each.
The unnamed Chibok man further complained that the monEy they received was not enough and some of them didn't get anything.
The Kibaku Area Development Association (Chibok community), issued a Press release on Wednesday claiming that 63 individuals comprising 51 escaped girls were given N100,000 each, 51 parents equally received N100,000 each and another 61 parents got N200,000 each by a Senior Special Assistant to the President on Special Duties.
So far the Presidency has denied giving the Chibok delegation any money. Is it possible that the unknown man who gave the money to the Chibok families is a presidential aide mentioned by Kibaku Area Development Association in their press release?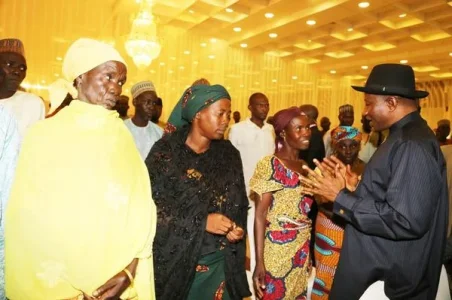 #Chibok #Leadership