The Emir of Gwoza Local Government Area of Borno State, Alhaji Muhammadu Idrissa Timta has said none of his Internally Displaced Persons, IDPs, including himself and his immediate family will return to Gwoza until Boko Haram terrorist are completely wiped out.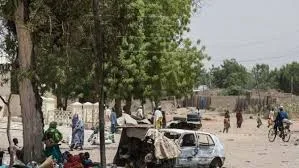 He spoke while reacting to a statement credited to the Senate Leader Mohammed Ndume, who also hails from Gwoza, calling on IDPs to return without waiting for government directive.
According to him, most communities especially surrounding mountainous villages of Ngoshe, Ashigashiya, Barawa and other border communities with Cameroon Republic are strictly under the control of the sect members, lamenting that over "10,000 persons are still trapped in Mandara Mountains (Bayan Dutse).
The Emir insisted that the so-called liberation of Gwoza communities hitherto under Boko Haram control by troops was only visible on the pages of newspapers.
He noted that those who took courage and returned to resettle in Gwoza town could not move out of the community, as they were likely to fall into the hands of insurgents that still surrounded the town without confrontation.