Senate president, Bukola Saraki, and the speaker of the House of Representatives, Yakubu Dogara, just concluded a closed door meeting with President Muhammadu Buhari at the presidential Villa, Abuja.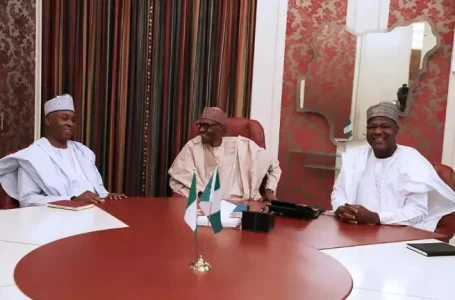 Saraki and Dogara, said they visited President Muhammadu Buhari to discuss matters of "national interest".
Senator Saraki told the press shortly after the meeting on Tuesday, March 14, that the president engaged them very well.
He said they specifically "came to discuss issues and activities of the National Assembly during the absence of the president", Premium Times reports.
According to the Senate president, the meeting centred on the "budget, the economy, CBN, Euro bond, the issue of the ambassadorial list, the stability in the Niger Delta, and a whole range of issues".
Saraki said the Senate has a target to pass the 2017 budget this month.
The meeting was held inside the president's office, The Punch reports