Ibrahim Magu, Acting chairman of the Economic and Financial Crimes Commission (EFCC) said his rejection by the Nigerian Senate will not stop him from fighting corruption.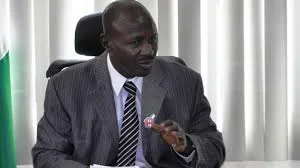 Speaking with some civil society organizations after his screening session, Magu said , ''My priority is to fight corruption. My confirmation has not changed anything. We have always been on duty I will work until the last day whether confirmation or no confirmation.
"The greatest violation against human right is crime against the society and the humanity but everybody has a duty and responsibility to fight corruption and I also has a responsibility. I assure you that we will fight to finish.''
"We will never be deterred because what we are doing is trying to investigate what has gone before and protect the future of our children and our future generation.
"So, if we don't work today and fight against corruption, the future is not guaranteed, the future of our children is not guaranteed.